Neat-Oh! International, LLC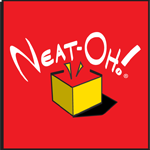 Neat-Oh! International, maker of the ZipBin® toy box, is the world-leading expert in delightful toys and clever, complementary storage solutions for children on the move (and their parents). Our innovative boxes unzip to reveal a world of unlimited play, and zip back up again for proper storage and portability of the playful toy companions that go inside.
Inspired by our own toy box play worlds, Neat-Oh! brings to life traditional wholesome dolls, dinosaurs, cars & characters to live and play inside our cases. Our Everyday Princess – No Crown Required™ dolls, Emma, Sophie, Haley and Julia are a friend to every princess they meet.
Millions of years in the making, Neat-Oh! Dinosaur Stompin' Grounds™ capture the real life world of dinosaurs where dangers lurked in lava lairs and tarry pits.
Love me wet, Love me dry SPLUSHY™ characters go from beach to bath to bed! No more need to keep soft toys away from water – kids love to get wet and so do their SPLUSHY friends!
Neat-Oh!'s life size castles are perfect for little dreamers with BIG imaginations. Up to 8 feet wide and 4 feet tall, our beautifully printed castles set the stage for role play and pretend.
Neat-Oh! has been trusted by parents for over 10 years. Every Neat-Oh! product is made to be safe, to be smart and to last. Our cases promote responsible and organized care of the simple things kids love the most. From our own line of innovative children's products, to licensing partnerships with such well-known brands as Barbie ™, Hot Wheels™, and more.
Creative play that's NEAT.
NEAT storage that's creative™.